Thanks to our amazing faculty for hitting it out of the park and making our 100th anniversary conference the best ever!
Keynote Speakers:

Poet, Writer, Playwright

New York Times Best Selling Author: Travel Writing

"Creating Magic and Miracles in the Writing Game"
Pam Grout is a world traveler, a loving mother, a best-selling author. She has served as an extra in a zombie movie, composed a country and western song, created a TV series and communed with Maasai warriors and Turkish sultans. For a living (and she always wonders why that's most people's number one question), she writes books (17, at last count including the international bestseller, E-Squared: 9 Do-it-Yourself Energy Experiments to Prove your Thoughts Create Your Reality) and articles for such places as CNN Travel, Huffington Post and People magazine.  She's written about everything from a dinosaur hunter to a couple guys who opened a bakery for dogs to a wonderful Boeing lineman who ran into a burning building to save six children. She also writes a travel column called "Now, Where Was I?" Pam lives in Lawrence, Kansas, a fun, funky university town.
New York Times Best Selling Author: Middle Grade Series
Rachel Renée Russell is the author of the #1 New York Times Best Selling book series, Dork Diaries. She's an attorney who prefers writing tween books to legal briefs. Mainly because books are a lot more fun and pajamas and bunny slippers aren't allowed in court. Rachel first introduced us to Nikki Maxwell in 2009 and since that time she has written 9 books in the series which have sold more than 15 million copies worldwide. For a cool peak at some of the Dorky books that have been translated into over 32 different languages. Her series has been optioned for film by Lionsgate Summit Films
Rachel grew up in Michigan but now resides in Northern Virginia with a very spoiled Yorkie who actually believes she is half human and half cat.
Guest Agents:
Janell Walden Agyerman, Marie Brown Literary
Janell Walden Agyeman is a literary agent with Marie Brown Associates literary services.  Since 1992, when her first book deal was published, she has represented fiction and non-fiction books for children and adults.  Her client list includes New York Times bestselling children's author Sharon M. Draper and Pulitzer Prize-winning columnist and novelist, Leonard Pitts, Jr.  A self-described "literary midwife" with eclectic tastes, she has played multiple roles in her career, serving individuals and institutions as editor, publishing consultant, book shepherd, program manager, literacy advocate and agent.
Her book publishing career began following graduation from the S. I. Newhouse School of Public Communications at Syracuse University when she entered the Trainee Program at Doubleday & Company.  Editorial positions at Doubleday and Howard University Press followed, interspersed with a stint as Contributing Author to the ground-breaking project, Contributions of Black Women to America, 1777-1976.  While at Howard, she enlarged her passion for education by administering the Howard University Press Book Publishing Institute.
Janell is a former board member of the Miami Book Fair International.  She also worked with the Pan African Bookfest and Cultural Conference, and the Friends of Faulkner storytelling guild, actively promoting a love of story and the importance of reading and books.  Now based in Atlanta, Georgia, Janell remains eager to discover exciting, new voices that artfully describe and interpret the human experience.
Janell is a member of the Authors Guild and the Independent Book Publishers Association.
*****
Amy Cloughley, Kimberley Cameron & Associates
Amy Cloughley came to Kimberley Cameron & Associates in 2012 with a background in editing, writing, and marketing. She seeks authors with unique, clear voices who put forth smart, tightly-written prose. She is actively building her client list with both debut and veteran writers.
She enjoys literary and upmarket fiction of all types in addition to commercial—including well-researched historical and well-told women's fiction. She also loves a page-turning mystery or suspense with sharp wit and unexpected twists and turns. She has a soft spot for distinctive, strong, contemporary characters set in small towns. Amy always looks for an unexpected story arc, a suitable pace, and a compelling protagonist.
She is interested in narrative nonfiction when the plot and characters are immersed in a culture, lifestyle, discipline, or industry. She will also consider a travel or adventure memoir.
She is not currently focusing on military/government thrillers, fantasy, or YA projects.
Amy has studied creative writing, journalism, and literature and holds a B.S. in magazine journalism. She worked in editorial and marketing roles in magazine publishing and corporate business before shifting her professional focus to her lifelong love of books. She leverages her background in both words and business to benefit her clients.
Adriana Dominguez, Full Circle Literary
Adriana Domínguez has 20 years of experience in publishing. Prior to becoming an agent, she was Executive Editor at HarperCollins Children's Books, where she managed the children's division of the Rayo imprint. Before that, she was Children's Reviews Editor at Críticas magazine, published by Library Journal. Adriana has performed editorial work for both children and adult publishers. She is also a professional translator, a member of the Brooklyn Literary Council that organizes the Brooklyn Book Festival, and one of the founders of the Comadres and Compadres Writers Conference in New York City. Adriana is based on the East Coast.
Adriana represents children's books for all ages.  She welcomes submissions that offer diverse points of view.
*****
Abby Saul: Browne & Miller Literary Associates
Abby Saul joined Browne & Miller Literary Associates in 2013 after spending five years on the production and digital publishing side of the industry, first at John Wiley & Sons and then at Sourcebooks. A zealous reader who loves her iPad and recognizes that ebooks are the future, she still can't resist the lure of a print book. Abby's personal library of beloved titles runs the gamut from literary newbies and classics, to cozy mysteries, to sappy women's fiction, to dark and twisted thrillers. She's looking for great and engrossing writing, no matter what the genre, and is actively exploring new digital possibilities for books. A magna cum laude graduate of Wellesley College, Abby spends her weekends—when she's not reading—cooking and hiking with her husband.
*****
Guest Editors:
Philip Martin: Editorial Director, Crickhollow Books and Crispin Books

Philip Martin is editorial director for Crickhollow Books and Crispin Books in Milwauikee, Wisconsin. They publish books for children and adults. In nonfiction, one focus is to develop a series of practical guides for writers (books and booklets). He also looks for thought-provoking, entertaining books on nature, history, cultural heritage, and spirituality topics, as well as other instructional how-to books to serve personal and professional needs. In fiction, he is looking for a diverse range of literary, commercial, and genre fiction, including chapter books for young readers, also works for adult readers. In all cases, he is focused on works that are rich in stories, sense of place, positive values, and (especially in nonfiction), of genuine value to readers.
*****
Georgia McBride, Publisher, Month9Books
Georgia McBride is founder of Georgia McBride Media Group, home of Month9Books, Swoon Romance, and Tantrum Books. She develops content for film and TV, and is also a speculative fiction writer. Georgia founded the #YAlitchat hashtag and weekly chat on Twitter in 2009.
Georgia McBride Media Group imprints publish debut authors as well as USA Today and New York Times bestselling author Diane Alberts, Bram Stoker Award nominated author Janice Gable Bashman, Amazon US #1 erotica author Kenya Wright, Amazon #1 Fantasy and Paranormal Romance author Melissa Petreshock, Amazon #1 Children's Fantasy author Nicole Conway, Amazon #1 Dystopian authors Abi Ketner and Missy Kalicicki, Amazon #1 Teen Sports author Natalie Decker, Amazon UK #1Teen Mythology and Legends author Jen McConnel, and renown Young Adult authors such as Jackie Morse Kessler, Michelle Zink and Cindy Pon.
Georgia works with notable agents and agencies such as Writers House, ICM Partners, Paradigm, Harvey Klinger Inc. Curtis Brown and Associates, The Rights Factory, Irene Goodman Literary Agency, Richard Curtis and Associates, Brandt & Hochman, Georges Borchardt, Inc., and more.
Additionally, Georgia McBride Media Group titles have been sold internationally to Harlequin Australia, Penguin Australia, and Piatkus (Little, Brown UK). Georgia McBride Media Group is represented at the Bologna and London book fairs and has a regular presence at Book Expo America and Romantic Times Book Lovers Convention.
On the film and TV side, The Undertakers series has been optioned for film by Moderncine Films with the creator of the Final Destination films attached. Dead Jed: Adventures of a Middle School Zombie has been optioned to Nickelodeon, Two and Twenty Dark Tales: Dark Retellings of Mother Goose Rhymes was optioned to Brillstein, and Nameless to Benderspink.
Georgia McBride Media Group, its founder and or imprints and titles have been featured in Publishers Weekly, Galley Cat, The Huffington Post, Publishers Marketplace, Writers Digest, USA Today, RT Book Reviews, CNN, Hypable, Justine Magazine, and Publishing Perspectives as well as regional dailies in the US and Canada.
*****
Eileen Robinson, Publisher, Move Books (Sunday Master Class and Critiques)
Eileen Robinson began her editorial career at Scholastic Publishing and also worked at Harcourt. She began in educational publishing, helping children learn to read, moved on to the school and library market and there as an executive editor, worked with librarians while collaborating with those in magazines and trade publishing, book fairs and book clubs. Later, she became an editorial consultant, creating F1rst Pages, critiquing writer's work, and becoming part of a joint venture, Kid's Book Revisions, giving workshops at national and regional conferences.
Move Books' first release, MAPMAKERS' SONS was featured on MTV. It was followed by Salamaine's Curse. Her third title, Escape from Bear Island was selected as a Junior Library Guild Pick. Her fourth title, THE LOST TRIBES has been called "an exciting start to what should be an unusual science fiction series," by Kirkus Reviews.
*****
Deborah Reinhardt: Managing Editor, AAA Midwest Traveler, AAA Southern Traveler

Deborah Reinhardt is managing editor of AAA Midwest Traveler and AAA Southern Traveler. In the 25 years as managing editor for AAA Missouri publications, Debbie still gets a kick out of opening a carton of magazines and seeing what she helped to create. The two magazines are mailed bimonthly to 900,000 people across seven states, and Debbie loves giving readers something that informs, entertains, and inspires them to travel. As a member of the travel/tourism industry, she has developed a respected reputation not only as an editor of well-known regional magazines, but also as a travel writer. Debbie loves to tell and present stories that spark a spirit of discovery in her readers.
April Roy, "What Makes An Award Winning Book"
April Ro
y was recently named 2015 Librarian of the Year by the Carnegie Foundation and the New York Times. She serves on several American Library Association committees, including past member of the prestigious Caldecott Awards committee and current member of the Coretta Scott King Awards committee. April is Manager of the Bluford Branch of the Kansas City Public Library.
*****
Napthali Faris is a Children's Library specialists who has served on a number of American Library Committees including serving as Chair of the prestigious 2015 Printz committee for Best Young Adult literature. She also writes reviews for School and Library Journal. One of her greatest joys is finding books children will talk about.
*****
Guest Authors:
Crystal Allen: "From Zero To Series"

Crystal Allen is the hilarious author of several middle grade books for children. Her first book, How Lamar's Bad Prank Won a Bubba Sized Trophy was acquired at auction as part of a two book deal. The winning publisher: Balzer and Bray a division of HarperCollins. It was followed by The Laura Line. Now her newest book, Maya Tibbs debuts in January 2016 as the start of a new series. Crystal is married, has two sons and lives in Texas. She'll talk about the process of getting noticed as a new author and going from "zero (books) to series" at the conference.
*****
 Terry J. Allen: "Character Development Through Dramatic Action"
Terry Allen has a Ph.D. in playwriting from Southern Illinois University at Carbondale and is an Emeritus Professor of Theatre Arts at the University of Wisconsin-Eau Claire, where he taught acting, directing and playwriting. In addition to his many directing and playwriting credits, he served on the National Selection Team and Playwriting Awards Committee for the Kennedy Center/American College Theatre Festival. He directed well more than 100 plays during his thirty-eight years of teaching. A few favorites include: Candide, Macbeth, Death of a Salesman, and The Threepenny Opera. He now writes poetry and has been published in Fine Arts Discovery, Well Versed, I-70 Review, Freshwater Poetry Journal, Boston Literary Magazine, Garbanzo Literary Journal and Bop Dead City.
*****
Tom Averill: Writer in Residenece and Professor of English, Washburn University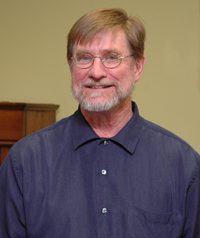 Tom Averill,
an  O. Henry Award winner, is Writer-in-residence and Professor of English at Washburn University of Topeka, where he teaches courses in Creative Writing and in Kansas Literature, Folklore and Film.  His has published four novels:
A Carol Dickens Christmas
(University of New Mexico Press, 2014),
rode
(University of New Mexico Press, 2011),  
Secrets of the Tsil Cafe,
  (BlueHen/ Penguin Putnam, 2001, and reprinted by UNM Press in 2012), and  
The Slow Air of Ewan MacPherson
  (BlueHen/Berkley, 2003).  He helped to found and was the first director of the
Washburn Center for Kansas Studies.
In 2010, Averill created the
Thomas Fox Averill Kansas Studies Collection at Mabee Library
. Averill is a long-time commentator in the voice of William Jennings Bryan Oleander of
Here, Kansas
, for
Kansas Public Radio
, KANU, 91.5 FM, National Public Radio from the University of Kansas.
*****
Barbara Bartocci: "Writing Memorable Memoir"
Barbara Bartocci is a motivational speaker, author, and spiritual life coach. She is the author of nine inspirational books and is frequently published in such popular national magazines as Good Housekeeping, Readers Digest, Family Circle, Woman's Day, Self, Glamour, and many others. She is a former managing editor for Hallmark Cards and was president of an award-winning advertising/public relations firm for ten years.
*****
Angela Cervantes: "The Author/Agent Relationship"

Angela Cervantes' first middle-grade novel, Gaby, Lost and Found (Scholastic Press; 2013) has sold over 300,000 copies and will be followed by Allie, First At Last, this spring. Angela was born and raised in Kansas, spending most of her childhood in Topeka. She earned a degree in English from the University of Kansas (Go Jayhawks!). She co-founded Las Poetas, an all-female poetry group, and began working at an international children's organization. Her work has also appeared in Chicken Soup for the Latino Soul, Missouri Review, and Kansas City Voices. In 2008, Kansas City Star Magazine recognized her as one of Kansas City's Emerging Writers. In 2014, she was named one of the Top Ten New Latino Authors to Watch by LatinoStories.Com.
*****
Gwendolyn Hooks – "Nonfiction for Kids and Work for Hire"

Gwendolyn Hooks is the author of seventeen books for children. She believes every child should be and can be a passionate reader like her. She writes funny books, adventurous books, mysterious books, as well as informative books to pique the interest of the child who struggles with reading. Gwendolyn believes that if you're a reader, even the farthest reaches of the world open up and you are right there in the middle of it. Gwendolyn lives in Oklahoma City.
*****
Jen Mann – Is it Funny Yet?, True Stories Well Told, and a Master Class on Nonfiction
Jen Mann is best known for her wildly popular and hysterical blog People I Want to Punch in the Throat. She has been described by many as Erma Bombeck―with slightly more colorful language. Jen is known for her hilarious rants and funny observations on everything from parenting to gift giving to celebrity behavior to politics to Elves on Shelves. Her blog received the 2014 Bloggie Award for Best Parenting Blog. Jen is the author of the New York Times Bestseller: People I Want to Punch in the Throat: Competitive Crafters, Drop-Off Despots, and Other Suburban Scourges which was a Finalist for a 2014 Goodreads Reader's Choice Award. Her latest book is Spending the Holidays with People I Want to Punch in the Throat.
Jen is a married mother of two children whom she calls Gomer and Adolpha in her writings―she swears their real names are actually worse.
*****
Erick McHenry, Kansas Poet Laureate – "Poetry Breakout"
Eric McHenry is a nationally known poet and associate professor of English at Washburn University in Topeka, Kansas. His work has been featured in publications such as Poetry International, Slate, Yale Review, and Topeka magazine, among many others. He also contributes poetry reviews for the New York Times and Columbia magazine. Odd Evening, his third book of poems, will be published by Waywiser Press in 2016. Eric has been nominated for the Pushcart Prize for poetry seven times and received the Theodore Roethke Prize in 2011. His first book of poems, Potscrubber Lullabies, earned him the prestigious Kate Tufts Discovery Award in 2007, the largest American prize for a first book of poetry.
*****
Janet Sunderland – "Saving Grandpa's Stories (and Grandma's Too!)"
Janet Sunderland is a poet and a memoirist. Her chapbook At the Boundary was published by Finishing Line Press in 2013. She grew up on a farm in Marshall County, Kansas, but drifted like a cottonseed throughout the USA, Europe, Mexico, and the Caribbean, before moving to Kansas City. She holds a BFA from Kansas State University, an MA from St. John's College in Santa Fe, and an M.Div from Sophia Divinity School. Her work has appeared in variety of journals as well as three recent anthologies, When Last on the Mountain, Love Over 60, and Journey to Crone. She serves on the executive board of Whispering Prairie Press. She's also a professional actress, a member of Screen Actors Guild, and teaches Public Speaking and Writing.